Compact DIL-32 module for PROFINET networks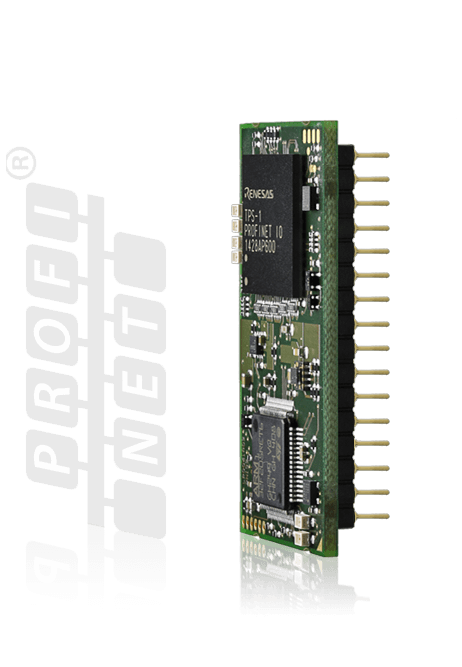 HIGHLIGHTS
Low power consumption
SDI Modbus interface to the application
RS485, RS232, UART
Protocolscripter
Terminal/Modbus RTU permits individual configuration
Same pin-out to the application
1,5kV galvanic separation of application and bus
Service interface: CDI (config, debug, status)
SSC shift register recognition (SPI)
Automatic Baud rate recognition
Automatic shift register recognition
Modules are PNO-certified and 100 % tested
DESCRIPTION
Connection of the KUNBUS-IC module to the processor of your control for implementation of PROFINET KUNBUS-IC RT (PROFINET KUNBUS-IC IRT as COM module) can be realized with a UART interface. A shift register interface can be used for devices without a processor. The signal distribution (32×8 bytes) to the input and output registers is done as required. This permits, for example, a split into 5x input and 27x output. Via a second serial CDI interface, a terminal can be connected, for example, as a debugging and configuration interface. A galvanic separation of up to 1.5 kV between the bus interface and control has also been realized on the module. Because the KUNBUS-IC PROFINET module can be operated independent of the control, the load of the processor of the control is fully reduced.
Minimize development efforts and save time and money with the product introduction of PROFINET RT into your device – KUNBUS-IC offers a simple option to integrate ProfiNet RT (PROFINET slave device) into your device with maximum efficiency.
Our KUNBUS-IC modules not only have the required PROFINET RT interface, but also an interface to your control. A standard pin-out permits realization of all of our buses by simple replacement of the module type. The KUNBUS-IC modules naturally have all the necessary components like optoelectronic coupler, bus driver, and microcontroller, bus components, and the indispensable memory. Furthermore, KUNBUS-IC modules have proven themselves in the security field, have been tested 100 %, and naturally are PNO-certified.
SPECIFICATIONS
| | |
| --- | --- |
| Dimensions – DIL-32 module | 24 x 45 mm |
| Power supply | 3.3V |
| Operating temperature | 0°C to +60°C |
| Storage temperature | -30°C to +85°C |
| Humidity | 0% to 95%, non-condensing |
| Condensing | not allowed |
| Mechanical shock load | 15G |
| Permanent mechanical stress | 5G |
ARTICLES
| | |
| --- | --- |
| KUNBUS-IC PROFINET IRT Slave / 3.3 V | 100048 |