Compact DIL-32 module for DeviceNet networks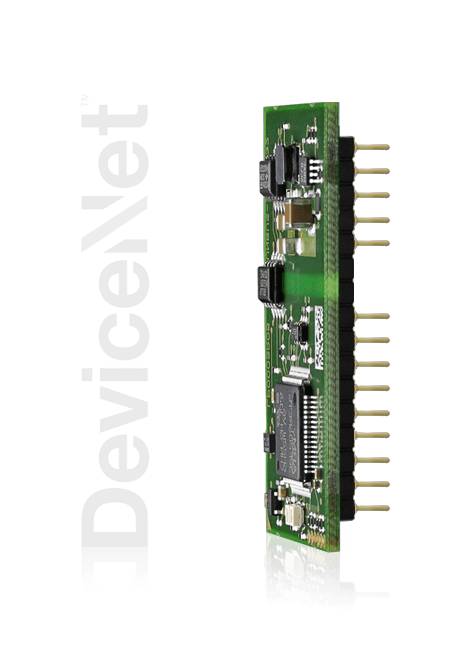 HIGHLIGHTS
Low power consumption
Modbus RTU interface to the application
Interfaces RS485, RS232, UART
Protocolscripter
SSC shift register interface (SPI)
Automatic process of shift register and Baud rate recognition
Uniform pin-out to the application
Modules are certified and tested
Application and bus galvanically separated
Freely configurable via a terminal / Modbus RTU
CDI (config, debug, status) service interface
DESCRIPTION
The integration of DeviceNet into your device is easy, quick, and cost-efficient with KUNBUS-IC. Your application can be connected optionally via a Modbus RTU interface (serial UART) or a shift register interface for devices without a processor. The KUNBUS-IC DeviceNet modules include the required memory, microcontroller, optoelectronic coupler, and bus drivers. All modules are 100 % tested and certified by the ODVA.
The max. 32 x 8 output and input signals can be set as desired as IN or OUT. Furthermore, there is a galvanic separation of max. 1.5 kV between interfaces and control, as well as in the area of the fieldbus. A second serial CDI interface is integrated for connection of a terminal. Because of the uniform pin-out, other IC variants (for example PROFIBUS or CANopen can be integrated simply by replacement. The communication module thus also serves as a DeviceNet option card.
The processor load reduction is another advantage of KUNBUS-IC as is its operation independent of the control.
SPECIFICATIONS
| | |
| --- | --- |
| Dimensions – DIL-32 module | 25 x 45 mm |
| Power supply | 3.3V |
| Operating temperature | 0°C to +60°C |
| Storage temperature | -30°C to +85°C |
| Humidity | 0% to 95%, non-condensing |
| Condensing | not allowed |
| Mechanical shock load | 15G |
| Permanent mechanical stress | 5G |
ARTICLES
| | |
| --- | --- |
| KUNBUS-IC DeciveNet Slave / 3.3 V | 100059 |