Compact DIL-32 module for CANopen networks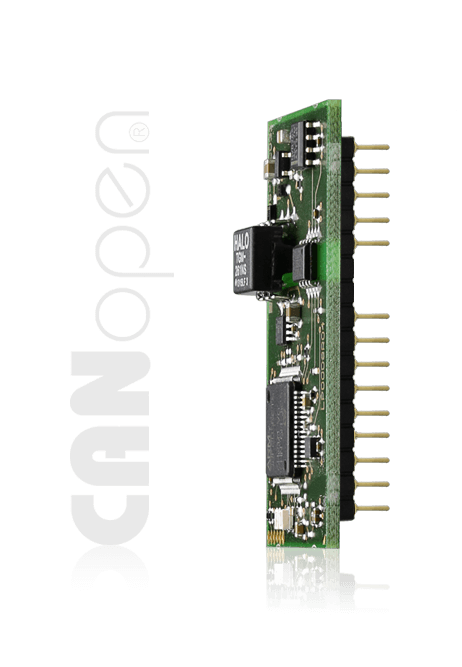 HIGHLIGHTS
Low power consumption
Galvanic separation of application and bus
Flexibly configurable via a terminal / Modbus RTU
Same pin-out to the application
CDI (config, debug, status) service interface
SDI Modbus interface to the application
RS232, RS485, UART
Protocolscripter
SSC shift register interface (SPI)
Automatic shift register and Baud rate recognition
Tested and certified modules
DESCRIPTION
The use of our KUNBUS-IC CANopen piggyback cards offers you support with quick and cost-efficient product introduction of CANopen-enabled devices (Control Area Network). Our high-value KUNBUS-IC modules are not only provided with the CANopen interface, but also convince with two different interfaces to your own controller. With this, the KUNBUS-IC modules include all components like microcontrollers, optoelectronic couplers, bus drivers, bus components, and memory. Naturally, you can also implement another bus from our catalog (for example PROFIBUS, DeviceNet, etc.) quickly and easily, as a consistently uniform pin-out is used. The communication modules thus also serve as option cards.
KUNBUS-IC modules for the implementation of CANopen are subject to certification by the CIA, 100 % tests, and with their quality and reliability take the requirements in the security range into account.
The KUNBUS-IC modules are connected to the processor of your control without much effort. Either the serial Modbus RTU UART interface or (for devices without a processor) a shift register interface is used for this. The potential 32 x 8 IN/OUT signals can be configured freely, for example to 5 x input and 27 x output. Applications and CAN bus are galvanically separated up to 1.5 kV. In addition, there is a debugging and configuration interface (CDI, UART) for connection of a terminal. Because of the independent operation of the KUNBUS-IC CANopen piggyback cards, the module also reduces the load for the processor of the application.
SPECIFICATIONS
| | |
| --- | --- |
| Dimensions – DIL-32 module | 25 x 45 mm |
| Power supply | 3.3V |
| Operating temperature | 0°C to +60°C |
| Storage temperature | -30°C to +85°C |
| Humidity | 0% to 95%, non-condensing |
| Condensing | not allowed |
| Mechanical shock load | 15G |
| Permanent mechanical stress | 5G |
ARTICLES
| | |
| --- | --- |
| KUNBUS-IC CANopen Slave / 3.3 V | 100058 |