Communication module for powerful automation devices
The KUNBUS-COM Slave (COMS) communication modules offer you a simple and cost-saving option to integrate a fieldbus or an industrial Ethernet into your device without internal development effort. In addition to the fieldbus or industrial Ethernet interface, the KUNBUS-COM modules also include a 32-pin plug-in connector as an interface to your device. Data exchange between the module and your device takes place via a dual-port RAM interface. Alternatively, a shift register interface is available.
All KUNBUS-COM modules are interchangeable thanks to uniform hardware and software interfaces. The KUNBUS-COM modules are certified by the respective user organizations and undergo an extensive function test upon completion.
PROFINET KUNBUS-COM
Powerful communication module for PROFINET networks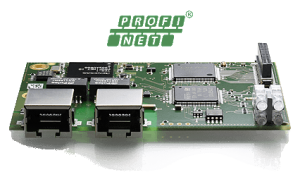 EtherNet/IP KUNBUS-COM
Powerful communication module for EtherNet/IP networks

PROFIBUS KUNBUS-COM
Powerful communication module for PROFIBUS networks